7 WEEKS, SOLO PROJECT: WAYFINDING, ENVIRONMENTAL DESIGN, LAYOUT
Green Lake is Seattle's most visited public park, cherished for its green spaces, water activities, and public amenities. Unfortunately, the park's wayfinding system is inaccessible, inconsistent, and in need of repair. A redesign is needed to better serve the needs of Seattle's current and future park patrons.
An accessible wayfinding system based upon a set of icons, signage, and place-making elements that enhances the experience for park visitors while keeping the focus on nature.
Green Lake, in addition to being one of Seattle's most popular parks, is also one of its most diverse. Green Lake Park is a great place to see a cross section of the city's residents: families pushing strollers are passed on the trail by runners and cyclists as fishermen and teenagers soak up sun on one of the lake's many docks. This diverse population also has diverse needs, requiring clear, accessible signage with standardized color, type, and icons.
For over a century, Green Lake Park has provided Seattle residents with a natural oasis in the heart of the city. John Law Olmsted, the chief park designer, believed that parks and natural spaces should be used to link populations to the natural environment, and Green Lake Park is an application of this vision. Over the intervening decades, the amenities of the park have evolved to meet the changing needs of Seattle's citizens, but the essence remains unchanged. Although the infrastructure of the park is in poor shape, the natural beauty continues to attract throngs of visitors during all seasons and has helped to shape the lives of countless Seattle citizens.
The best way to understand the design challenge was to visit the park. I made several trips to assess signage, take photos, and measure type in order to better comprehend the needs of the parks users. Unfortunately, the existing signage is in bad shape. Many of the signs are covered in graffiti and faded from years of exposure.There is no standard usage of type, color, or icon set from one sign to the next. After walking the trail and visiting the park's amenities it was clear that any improvements must be based on a scalable and accessible system.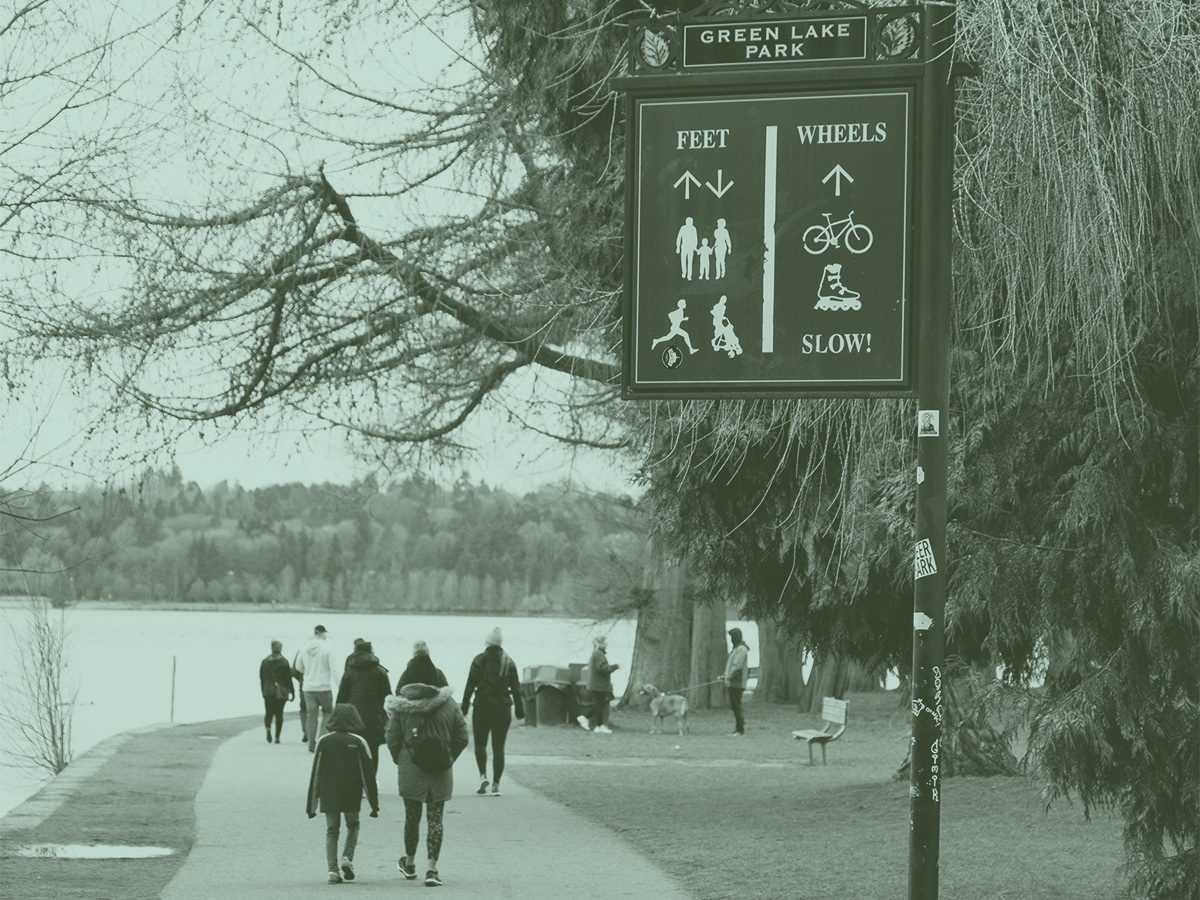 My design concept updates the wayfinding features while supporting the original vision of the park. This translates into a visual language built upon natural, local colors, simple typography, and neutral, accessible graphics. Everything is designed to help visitors focus on the park experience rather than the signage.  
Drawing inspiration from the natural environment of Green Lake, I selected a  palette of colors that would simultaneously provide clear visual information to visitors while blending into the scenery. This includes a range of greens and blues that harmonize with the colors around the lake, with the addition of teal and orange accent colors to highlight important information. For type, I chose Meta Pro and Helvetica Neue for their clarity and readability at a distance. 
The icon set was designed to meet the needs of the park's diverse user base. To that end, the icons are informal, inviting, and accessible to everyone. The icons rely on established shapes and patterns, expressed in uniform colors and line weight to provide guidance to park users of any age or language.
The current map at Green Lake Park is overpopulated by unnecessary information, leading to confusion. This redesigned map emphasizes landmarks within the park—including amenities and utilities—but deliberately omits excess information. The placement of icons at points of interest improves accessibility for non-english speakers and children.
This set of decorated mile markers was designed to provide information to users of the 2.8 mile walking trail while gently reminding visitors to be aware of the natural flora and fauna—an expression of Olmsted's original park philosophy. Each mile marker features a local bird species applied to a steel post with reflective paint (for daytime and evening visibility).
As with other elements of this project, the written language was chosen for clarity and accessibility. The tone is helpful and inclusive without being heavy-handed. To this end, regulatory signage was created without the use of warning colors or capital letters for emphasis.
These point of interest signs were designed to help visitors understand the original vision for the park and its evolution over time. I chose to populate these signs with lush historical photos and architectural renderings to provide added context to their park experience. 
This design system, anchored by its twin goals of simplicity and accessibility, improves the experience of park visitors by allowing them to focus on the park itself. Each sign has been designed to share colors, typography, icons, and verbiage—creating a cohesive, navigable, and scalable system.